Sail Rigs for Kayaks


Add Sailing Capabilities to any Kayak.
Kayak Sailing kit comes with a Large 45 Square Foot (4.2 Mē) Sail Rig that lets you sail Upwind or Downwind. Sail Kit Includes Hydrodynamic Stabilizer Floats so you won't Tip
FREE SHIPPING *
*within the 48 USA
Scroll Down the Page for Details & Option's Pricing
Already have your favorite Kayak? Want to add some fun by making it into a Sailboat? Our Sail Kit is your solution. Easily adapts to all kayaks. Quickly add or remove as you see fit. Folds to 45" and weighs less than 14 lbs. Boom, Spar & Mast are sectional and held together internally by a shock cord. You can fold up the entire rig for storage in or out of the boat.
Sail Up Wind or Down Wind
Quickly installs or removes without any tools *
* after initial installation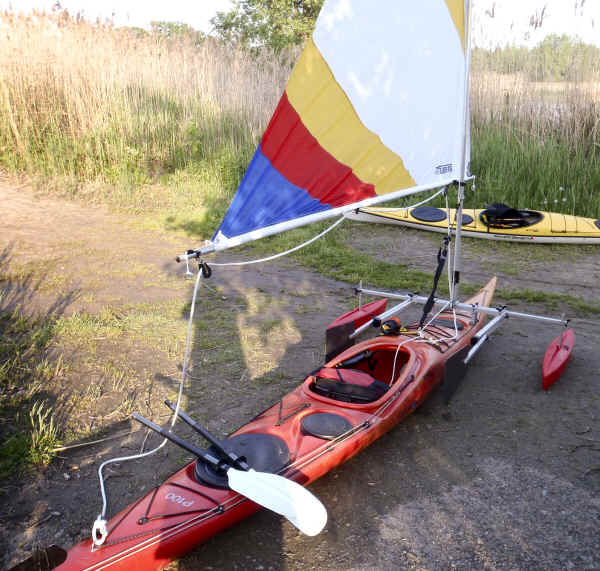 SK-K-HD Small Cockpit Kayak Sail Kit
Hydrodynamic Floats
Turn your Kayak into a sleek sailing craft!
Just like our Kayak stabilizer floats, the Sail Kit attaches with our Kayak adapters. These attach to the deck of your kayak with two small bolts. For a total of 4 holes that would need to be drilled into your boat. When not sailing, the adapters will remove with just the use of a pin and only a low profile bracket will be left on the deck of your kayak.
Our New Set Back Leeboard design offers better adjustability for leeboard positioning and no other leeboard unit is needed ....freeing up valuable space on your kayak.

Included is an extra support strap for mast stability.
Kit comes with everything you need to sail your kayak with!
HD floats and our New improved float arms.

Universal Receiver

Kayak adapter kit

Stabilizing strap

New set back Leeboards (pair)

Mast, Sail, Spars, Ropes
*Please note - NO rudder is included in these kits; you must provide your own.*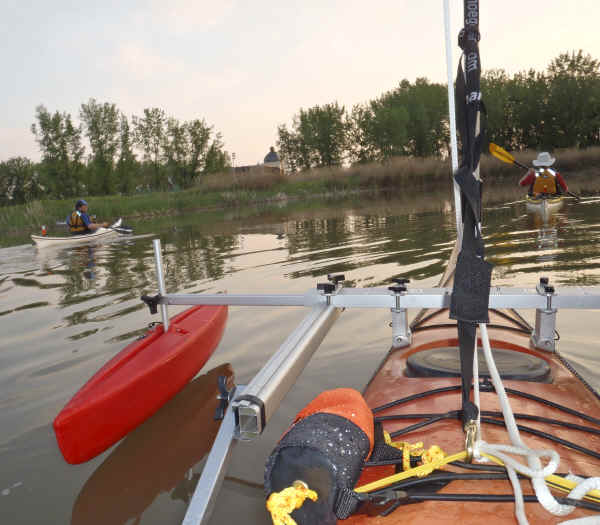 Heavy Duty Aluminum components have quick Release Knobs for Easy AdjustmenQ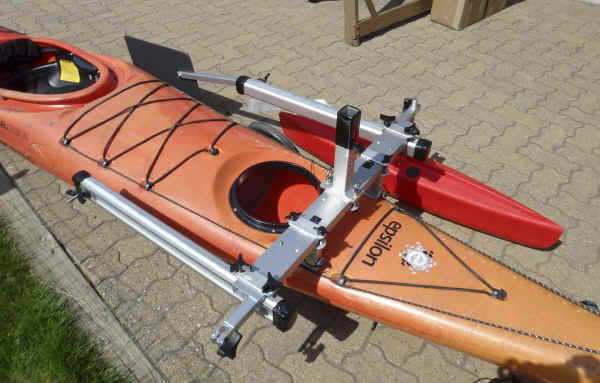 Simply install 2 Brackets and all parts are attached to one cross bar witha Quick Release
Use the Stabilizer Floats by Themselves when not Sailing


Kit quickly removes from Brackets

Hydrodynamic Floats
can be used alone on Kayak

You can remove the Sail Rig and
just enjoy Exceptional Stability
as you Paddle your Kayak
Installing the Sail Kit Video
---
---
Hydrodynamic Floats give your Kayak maximum safety and stability.
CLICK HERE FOR MORE FLOAT INFORMATION
| | |
| --- | --- |
| Sail | 45 SF Nylon Lateen Rig (4.2 Mē) |
| Mast | 87" X 1-1/4" aluminum w/Step & Foot |
| Boom | 10' jointed aluminum |
| Spar | 10' jointed aluminum |
| Keel type | Dual Leeboards |
| Rudder type | NONE - Uses Kayak's installed Rudder |
| Stabilizers | Dual 43" Hydrodynamic Floats |
| | |
| --- | --- |
| SK-K-HD Small Cockpit* Kayak Sail Kit with Hydrodynamic Floats * | Call for Price # |
* Floats are Gray in Color, unless specified # Free Shipping in 48 USA
*Large Cockpit Kayaks Use the Canoe Sail Kit